Batia and Claude and their 3 daughters,
, , ,
live and work in Ein Hod since 1991.
The girls are university students.
Melanie runs the village Cafe, , Tel: 972-54-6676089
Karine, BDesign from Shenkar College, a designer of fashion+home accessories as well as interior design.
Her designs can be seen on the site: etsy.com/shop/karinedesigns . tel: 972-54-2126626
Nadine, art student also runs a very impressive second-hand fashion and accessories shop, , . tel: 972-54-4801985
Batia, an artist, was born in Haifa, but grew up in Montreal. After having spent 3 months in Israel during the Six Day War, Batia, enthused, decided to make aliya after finishing her art studies in Montreal. In 1971, she settled in Haifa and started teaching in the Art Department at Haifa University.
Claude - born in Paris, France - made aliya in 1973, after the Yom Kippur War. He spent one year as a volunteer in Kibbutz Ein Hamifratz and then registered at the Technion to study Electronics. He spent the next 20 years in the Technion, working in the Experimental Flight Control Lab in the Aeronautics Dept.
In 1997, he took an early retirement, and started a new mid-life career, this time in carpentry and furniture restoration.
Visit also my blog at "Art and Antiques in Ein-Hod artists village"
Both Batia and Claude, avid and obsessive collectors, decided to open an antique shop and turn a hobby into a more serious venture. They opened their shop and workshop in 1998 and have since developed it into a place of great interest for collectors of original North American country furniture, American Depression Glass, and many historical tools and paraphernalia, mostly from Quebec and eastern Canada.
Today, added to the shop, are also two successful B&B guest apartments, furnished in the style of the antique shop. An unusual feature, most of the furnishings in the unit are for sale. Batia and Claude provide personal attention to their guests and give them the opportunity to get an insider's view of their studio and workshop.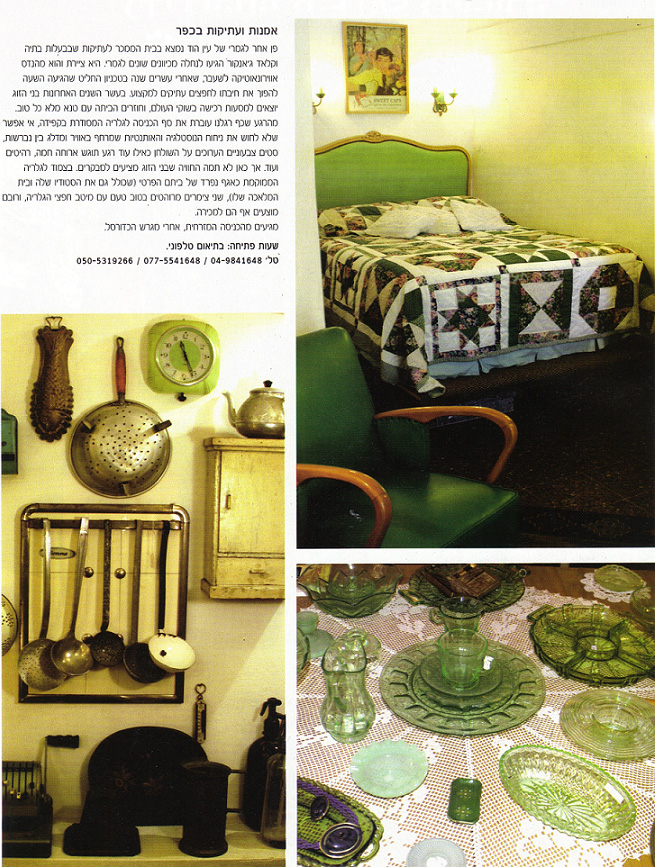 How to get to us? Here's a helpfull map from Google.


View Larger Map